Many waters you will find, from municipal, to spring water, to "designer health" waters, are often manipulated chemically to address real concerns in safety, mineral and chemical profile, and taste.
Driftless® Fine Water is different in that we believe the best thing for a healthy body is what nature has made for us–naturally.
We use no chemicals in our water – it is bottled directly from the protected source, deep underground.
A healthful, balanced 7.6 pH. Bottled in glass, leaves no aftertaste or packaging residue, just refreshment.
​
THE PERFECT TREAT TO COMPLIMENT A CELEBRATION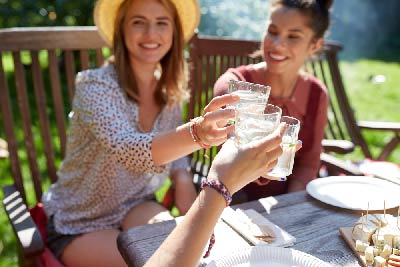 Our water profile is uniquely tasty and delicious–and yet still–all natural.
Professional pairings of our water with food is that Driftless® Fine Water is a great choice for all sorts of meals – at home to start your day, the nicest restaurants, a great cafe, or that lovely picnic.
Water is life giving. It is also a great way to balance tastings of wine, craft beers, and top shelf distilled spirits, so you can really taste what you are drinking! And of course, every evening (and morning after) benefits by hydrating–the best way to ensure the best of times!
GREAT WATER EVERYDAY IS A HEALTHFUL CHOICE
We highly recommend taking the care of creating a cocktail with Driftless® Fine Water for those special occasions! Bring on the fresh fruits, mints, and garnishes, and revel in the fact you are doing the best for your body! Cheers!